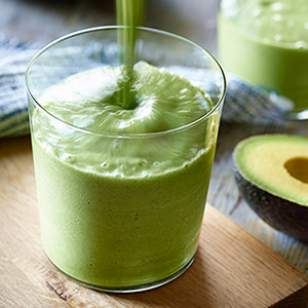 To make this green smoothie recipe a meal-in-a-glass, musician Mraz adds a tablespoon of coconut oil and some sprouted flax or chia seeds.
Recipe:
Makes: 2 servings
Serving Size: 2 cups
Active Time: 15 minutes
Total Time: 15 minutes
NUTRITION PROFILE
High potassium | High calcium | High fiber | Low sodium | Low saturated fat | Low cholesterol | Low calorie | Diabetes appropriate | Heart healthy | Healthy weight |
INGREDIENTS
1 1/4 cups cold unsweetened almond milk or coconut milk beverage
1 ripe avocado
1 ripe banana
1 sweet apple, such as Honeycrisp, sliced
1/2 large or 1 small stalk celery, chopped
2 cups lightly packed kale leaves or spinach
1 1-inch piece peeled fresh ginger
8 ice cubes
PREPARATION
Blend milk beverage, avocado, banana, apple, celery, kale (or spinach), ginger and ice in a blender until very smooth.
NUTRITION
Per serving: 332 calories; 18 g fat (2 g sat, 10 g mono); 0 mg cholesterol; 45 g carbohydrates; 18 g total sugars; 7 g protein; 13 g fiber; 164 mg sodium; 1345 mg potassium.
Nutrition Bonus: Vitamin C (168% daily value), Vitamin A (146% dv), Potassium (38% dv), Folate (31% dv), Calcium (26% dv), Magnesium (25% dv)
Carbohydrate Servings: 2 1/2
Exchanges: 2 starch, 1 1/2 vegetable, 3 1/2 fat